Come On! Feel The Illinoise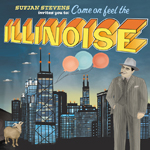 Since I haven't found anything new and interesting this week I'll post some songs from another of 2005's best albums. In 2003,
Sufjan Stevens
announced that he was going to release an album inspired by each state in America. He then released the first installment
Greetings From Michigan The Great Lake State
.
Perhaps nobody told Sufjan that there were 50 states because it took him 2 years to release the second installment,
Come On Feel The Illinoise
. As it turns out, it was worth the wait. Just about every knowledgeable "Best of 2005" list had this album at or near the top, including
Pitchfork
who ranked it #1.
Sufjan Stevens - Come On! Feel The Illinoise! Part I: The World's Columbian Exposition / Part II: Carl Sandburg Visits Me In A Dream
>>>> I just wish this song had a more descriptive title.
Sufjan Stevens - John Wayne Gacy, Jr.
>>>> Because sometimes we all feel like a homicidal maniac.
Sufjan Stevens - They Are Night Zombies!! They Are Neighbors!! They Have Come Back From The Dead!! Ahhhhh!
>>>> I always wondered what it would sound like if Zombie Cheerleaders rose from the dead and rocked out to a kick ass bass line.